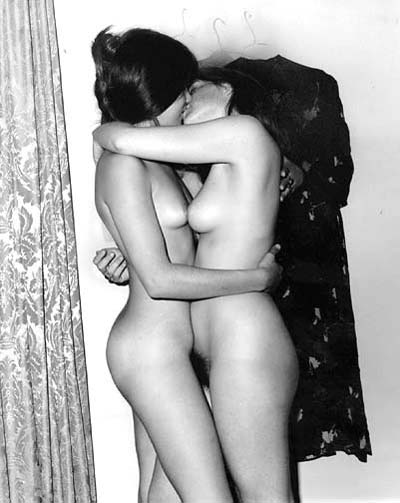 It might be a common stereotype that many women (and men, too) discover different facets of their sexuality while attending college, but the campus environment seems to harbor a palpable undercurrent of sensual energy. The different sexes experience this differently: Men are fascinated by the amount of hot and willing chicks, while women are enticed by the freedom of living and loving away from the constraints of their hometown and normal social environment. In my case, I was feeling a newfound sexual freedom that was further enhanced by a Female Sexuality class I signed up for. I wasn't exactly sure what was in store for me when I arrived the first day to the non-descript classroom in the General Studies building, but the first thing I noticed was a petite Latina named Lupe* with a radiance that made me temporarily immobilized.
As we all gathered into the classroom I realized that I couldn't take my eyes off of her, and I felt my cheeks burn with innocent embarrassment. In passing, I noticed a tiny rainbow pin affixed to her backpack, so I was left with the impression that she preferred women over men. As the semester progressed, and the small group of female students got to know each other on an intimate level, I got to know Lupe, who wasn't just incredibly attractive, but was also smart and funny with an intoxicating laugh and a sardonic sense of humor. I guess you could say that she held my attention and interest all semester long. I would constantly daydream about her during class; imagining what it would feel like to touch her soft breasts, first delicately cupping them with my hands and then teasingly stroking her nipples with the tips of my fingers. I would vividly imagine working my way slowly down her curvy, petite body to place my eager hand between her thighs, only to watch her close her eyes and utter a breathy moan.
My Female Sexuality class had developed a strong bond, the kind that was forged by bearing our innermost secrets and our sometimes-rocky sexual pasts. We all cried as one or more of us recounted stories of being mistreated by men, or congratulated each other when we would have a sexual triumph, or when we collectively as a class found our elusive G-spots. As the term came to a close, we geared up for the big end of the year party where our group would meet the other Female Sexuality classes for an anything-goes soiree that was notorious for its racy Spin the Bottle games. It was a tradition that at the end of the semester all of the classmates had to reveal if they had a secret crush on a fellow student. I was a little nervous about the possibility of coming out to Lupe, but for some reason it felt right.
We had a pre-party at Lupe's small apartment off-campus. As we sipped our drinks from red plastic cups and made jubilant small talk, the conversation quickly shifted to sex—as it so often does—and the topic of our secret crushes. As my classmates continued their candid discussions, I leaned over to Lupe, who was cradling a cup in her hands and nonchalantly leaning in the kitchen doorway. I softly whispered in her ear, "I have a crush on you," and she looked at me and smiled and answered, "I know." She put down her cup and stealthily touched my left breast that was subtly peaking out of my '70s halter dress, oblivious to the others in the room. I looked at her intently as I felt the surge of arousal.
As we assembled the group to make our move over the party, Lupe and I walked together lagging behind the rest of the group. While the class headed briskly to the house party in the December frost, Lupe grabbed me and playfully threw me against the wall of an apartment complex and began furiously kissing me. She leaned her body onto mine and pushed her ample breasts onto me. Defenseless and shocked by Lupe's boldness, I completely gave over to her advances, uttering slow moans as the curve of her body merged with mine. Out in the open for all to see, Lupe and I hungrily kissed each other until a group of male students caught wind of our heavy petting. In a barrage of hoots and hollers, and misogynistic banter, Lupe and I composed ourselves and made our way to the party. I was dizzy and my lips felt swollen in a good way.
At the time, I was hung up on a much older portrait photographer and poster artist who lived close to campus. I had plans to meet him after the holiday party and Lupe told me she would walk with because it was on her way home. With a bottle of Vanilla Stoli in tow, we tipsily made our way to Justin's apartment, stealing passionate kisses along the way. "I made a promise to myself to never go for straight girls," she slurred, "but for you, I'll make an exception. I have a feeling you're going to break my heart, girl." At his door we said our farewells and I watched her walk away. I entered his apartment and took off my dress. As he began to touch me in the spacious living room his top-floor apartment my mind wandered. The entire time I thought of her.
Soon after Justin stopped talking to me. It was obvious that, to him, I was just a young party girl who would be easy to use for sex. In the midst of my rejection haze I called Lupe to see if she wanted to get a drink with me. She was underage at the time, so I snuck her into a dark corner of a nice wine bar. We laughed over too many dark rum-infused daiquiris, and I decided to drive her home so I wouldn't indulge in any more. Double-parked outside of her apartment, it was obvious neither of us wanted to leave. She invited me in and I accepted the offer without a second thought. Once inside the apartment I kissed her and we quickly moved to the bed. I took the lead at first, as I hoisted myself on top of her, my face completely immersed in her full breasts. My kisses moved down her body; slowing mimicking the arch of her stomach, and down to her hips. I lightly bit the inside of her thighs, looking back up at her from between her legs to see that she was hypnotized by my touch. Her body rocked and undulated as I pleased her fully, her moans growing louder, her seductive murmurs transitioning into dirty talk.
"I'm going to make you forget about Justin," she said once I came back up for air. Lupe delivered on her promise, her intuitive touch sent shivers down my body, my legs shaking in ecstasy. I woke up the next morning with a love hangover. I kissed her as I left and walked to my car. As I turned around to look at her I knew it would be the last time I'd ever see her. She never did call me again—although I was her straight girl exception, she knew that it would never work. I often think about Lupe and the brief time we spent together, and I wonder if she ever thinks of me.